We're Getting Mutants in the MCU - The Loop
Play Sound
"This page is under construction."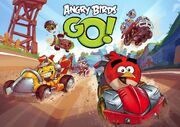 Info
Angry Birds Go! is a kart racing game based on the original game. It is the first 3D Angry Birds game but this the fourth game you can play as pigs, the third being Angry Birds Star Wars II, the second being Bad Piggies and the first being Angry Birds (King Pig Mode). The game involves downhill racing, with upgrade-able vehicles and character-specific powers. The game also uses the Telepods like Angry Birds Star Wars II, as in karts that can be 'teleported' into the game. It is the seventh installment of Angry Birds, and was released on November 26, 2013 in New Zealand, one day following in Australia, and on December 11, 2013 worldwide. A countdown app was released on October 31st, to see it go to Angry Birds GO! countdown app.
Plot
The story starts when the pigs are ready to race on the Piggy Island, while the birds are looking down on them. The Chronicler Pig is making the prizes. The third place will win shoes, the second will win an apple, and the winner will win a big cake. The birds then jump down and join the race with the pigs.
In Angry Birds Go!, you race as against pigs as Red, and recruit characters for your team. Your racers will get tired after playing five races, so you have to let them recharge. Your karts go through three stages: Bronze, Silver and Gold. To get to these stages, max out all upgrades for your kart. Once you do, you will get an all new kart every time you max out the upgrades.
Characters
Modes
Race
A classic race with seven other racers. To pass this event, finish in the top 3.
Time Boom
Dodge obstacles and get to the finish line before the time-bomb explodes.
Fruit Splat
Race against minion pigs and splat the fruits until the bar is empty.
Versus
A race with a single opponent. To pass, simply finish the race before they do. In this event, you can choose between Easy, Medium, and Hard. The harder the difficulty, the more coins you earn.
Champion Chase
A duel with a new racer in a track. Beat them 3 times to recruit them. After you beat this, you cannot do it again unless you are playing as a Guest.